If times were normal, Crystal Wagner would be taking painting classes at The Arc Baltimore Day Center, and spending time with her boyfriend, Andrew, and her bowling team, the Rockets.
Patty Worff anticipated a similarly busy spring in Arnold, until the coronavius pandemic forced the cancellation of her annual birthday trip to Dover Downs and instead of attending her niece's wedding, she had to watch it on Facebook Live.
"She's had several disappointments," said Pat Worff, her mother.
Camp GLOW, however, remained a bright spot on the ladies' summer schedules, albeit in a virtual mode.
COVID-19 made in-person camp for adults with physical or developmental disabilities, sponsored by the Archdiocese of Baltimore, too risky, according to Deacon Bill Fleming, its director. An alternative, an online camp, has received an enthusiastic response.
Fifty attended in July, with a similar numberregistered for the August session. Deacon Fleming said his team mailed packets to every participant, including T-shirt, crafts materials, Bible passages and a daily agenda. Four-hour sessions include prayer, crafts, entertainment and Mass.
"The main goals are spiritual enrichment and social interaction," he said.
Father Matthew Himes, associate pastor at Our Lady of the Fields in Millersville and a longtime Camp GLOW volunteer, celebrated Mass during the July session.
"Camp GLOW is a fundamental part of my faith journey," he said.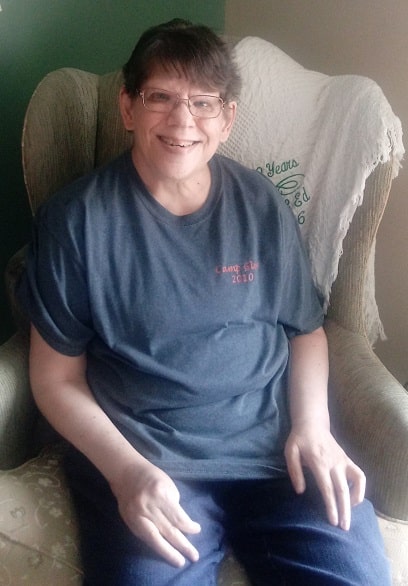 As he prayed and read the Gospel at the Monsignor O'Dwyer Retreat House in Sparks, he could see campers' faces on a big screen TV. Though he missed the usual hugs and repartee, he nevertheless felt a connection.
"It was still a beautiful experience of praying with the campers," Father Himes said.
Crystal and Patty both plan to participate in the August camp.
Patty's three housemates will also join in. Two have physical limitations that kept them from attending Camp GLOW in the past. Deacon Fleming said they are among some 30 registrants able to attend camp virtually, but not in person.
Stuck at home since March, Crystal and Patty, as well as their parents and caregivers, are extra vigilant about their health. Crystal, 40, suffers from respiratory ailments. Patty, 52, is a cancer survivor.
"The virus is upsetting. We can't go anywhere," Crystal told the Review in a phone interview.
Her family postponed vacation plans and curtailed visits with Crystal's brother, Michael, according to her mother. Crystal lives in Fullerton with her parents, Barbara and Mike Wagner, parishioners of St. Joseph.
"We still stay home," Mrs. Wagner said.
While Crystal can visit her elderly aunt, Rita Wagner, who lives next door, she hasn't seen her boyfriend Andrew in months. When they celebrated their third anniversary in May, it was on the phone.
"We do everything together," Crystal said. "But not since the virus."
Zoom sessions have made it possible for Crystal to continue her art lessons at the Arc "That is the thing she enjoys the most," her mother said.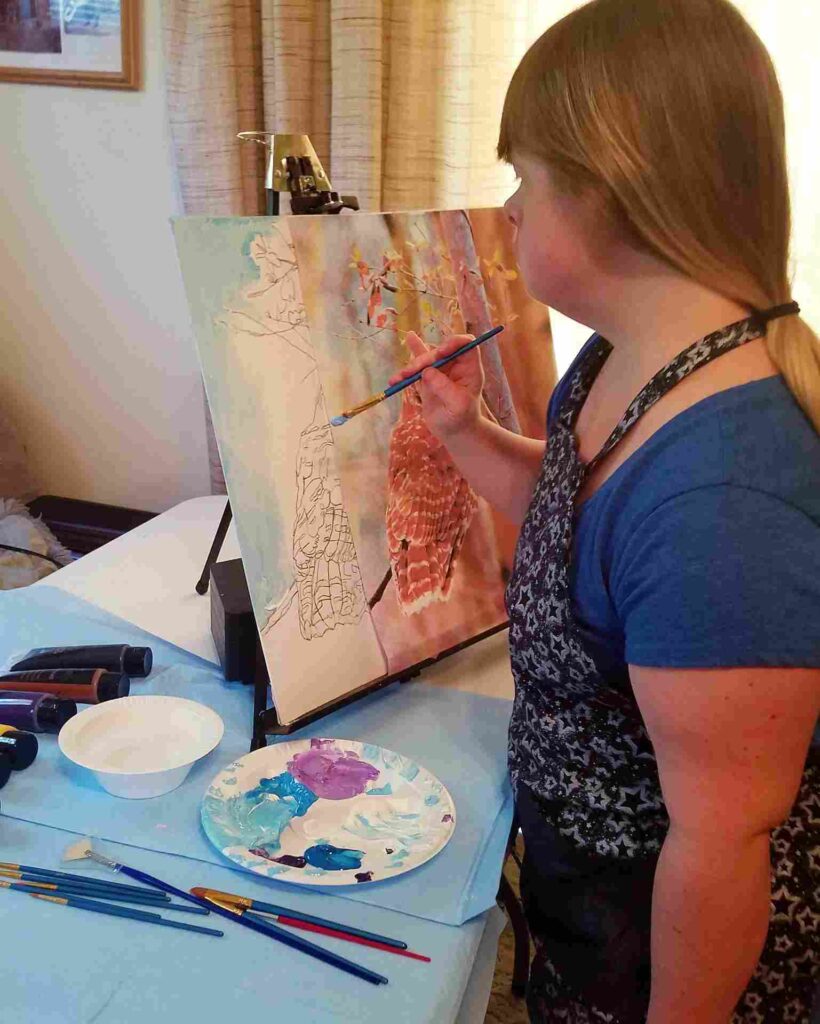 Because she wanted to finish her painting of an owl before Camp GLOW, she opted for the Aug. 10-12 session.
For Patty, the quarantine meant suspension of her sessions at the Providence Center in Glen Burnie, and her work in the the vending machine business she operates with her dad, Ed Worff. In addition to bowling, religious education meetings were also canceled.
Even family visits came to a temporary halt.
"Normally she's here every other Sunday for dinner," her father said.
"It's been hard," Patty said, noting she's spent most of her time watching TV or teaching her housemates a bit of sign language.
On her birthday April 30, Patty found a way to celebrate — even if she couldn't get to Dover Downs with her parents. She emailed her friends asking for M&Ms, and, her mother said, "She got them."
They and nonpareils are her favorite candies, Patty told the Review.
Restrictions have since eased some. Patty attends her day program for two hours a day and celebrated Father's Day with her father. Family dinners are back on the schedule, enabling a visit with her sister, Michele Lowe.
"She's doing well right now, so that's good," Mrs. Worff said.
Both Crystal and Patty are active in church.
Crystal was a longtime greeter at St. Joseph's until her mother got ill. "They loved Crystal," her mother said. For now, she now watches streamed Masses celebrated by Archbishop William Lori.
Patty, who attends Mass at St. Andrew by the Bay Parish when she's visiting her parents, enjoys leading prayer at Special Needs Religious Education meetings at St. John the Evangelist in Severna Park.
Patty, a 15-year camper, enjoys making new friends and art sessions at Camp GLOW. "I helped at Mass every day," she added.
"We're not going to camp this year. That's sad," said Crystal, who first attended in 2011.
Despite so many changes, one thing remains constant. She'll have the proper attire. "The T-shirt is coming in the mail," Crystal said.